Take a look at the best productivity apps I use. With the rise of "instant-dopamine-hit" applications, the current attention span of humans has decimated so much that even a goldfish can beat us!
But all hope isn't lost: there are some apps that when used, can blow up your productivity to new and unthinkable heights. Some use the same feedback loop as those "instant-dopamine-hit" applications, but constructively; others make your life way easier. Let's take a look at 4 such incredible apps.
1. Habitica
Habitica is a free habit-building and productivity app that treats your real life like a game, a process known as gamification. With in-game rewards and punishments to motivate you and a strong social network to inspire you, Habitica can help you achieve your goals to become healthy, hard-working, and happy.
Habitica is simply gamification on steroids, a really effective tool to help you stay motivated & productive and even get rid of bad habits.
Fun Fact: It is an Open Source Project, so you can dive into the source code here: https://github.com/HabitRPG/habitica
2. Forest
Forest is an app that helps you stay focused on the essential things in life. The app has a lot of pluses. First, it's a well-designed app that helps make the abstract idea of focusing away from your phone into a fun game, just like Habitica.
It has some great features, but it keeps things simple where it counts, and even the free version with ads is pretty good at not distracting you.
As a bonus for every tree you grow, the Forest team partners with a real-tree-planting organization, Trees for the Future, to plant real trees on Earth. When our users spend virtual coins they earn in Forest on planting real trees, the Forest team donates to our partner and creates planting orders.
Not only do you stay focused, but leave a positive impact on the environment too! It is killing two birds with one stone!
3. Cold Turkey
As the Cold Turkey team puts it, the app is "The Toughest Website Blocker on the Internet".
It will block you out of all the apps and games you don't want to be distracted by, leaving you so bored, that being productive will appear to be lucrative.
Your future self will thank you for the tough love!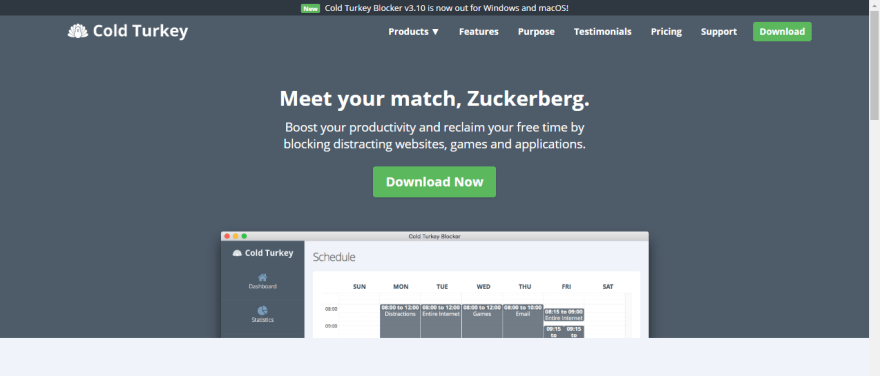 4. Notion
Notion is one of the most popular and flexible tools. It's an all-in-one productivity solution and it's simply one of the best tools I've ever used. It can be a writing repository, task management software, a workout calendar, a database, and so much more.
Notion calls itself "the missing half of Slack". Regardless of whether you are working alone or in a team, you can use Notion to organize your thoughts and efficiently plan out projects.