How to get and how to upgrade to Windows 11, what are the system requirements, and what is TPM?
In October 2021 Microsoft officially released Windows 11 for both for new devices pre-loaded with Windows 11 and eligible Windows 10 devices. Windows continues to be integral to how more than a billion people connect, learn, play and work.
In this post I'll explain the measured and phased rollout process for Windows 11, and how to get the upgrade when your device is ready.
About the upgrade to Windows 11
Microsoft's launch approach to Windows 11 leverages the well-established systems and processes used for the 1.3 billion Windows 10 devices they have shipped and serviced for over five years. They will use a measured and phased process in offering Windows 11 as they have done with Windows 10 feature updates. Their objective is to provide a smooth upgrade experience.
If you have a Windows 10 PC that's eligible for the upgrade, Windows Update will let you know via the Windows Update Settings page when it's available. Microsoft expects all eligible Windows 10 devices to be offered the upgrade to Windows 11 by mid-2022.
How to get Windows 11? What are the hardware requirements, and what the hell is TPM?
Windows 11 Basic Requirements
Microsoft has raised the requirement ceiling quite a bit for Windows 11.
At least 1 GHz dual core CPU (more on that in a bit)
4 GB RAM
64 GB of drive space
UEFI and Secure Boot capable
Trusted Platform Module (TPM) 2.0 (also more on that later)
DirectX 12 compatible graphics, either dedicated or onboard
At least 9", 720p display
At first glance, those don't sound too bad, except that Microsoft has stated that, as of this writing, only CPUs that are either Intel 8th Gen or AMD Ryzen 2000 series or newer will be officially supported by Windows 11. That unfortunately leaves out a lot of people with machines that aren't really that old. Now, don't panic yet. Microsoft has no plans of abandoning Windows 10 anytime soon, and much like the situation surrounding Windows 7, older systems may still be able to run Windows 11 even though they may not be *officially* supported. I suspect we'll have more details as more people update.
What is TPM?
Now for the part that is confusing the most people: TPM. Without getting too technical, TPM is a security technology that stores a hardware encryption key, usually in a dedicated TPM module, that prevents unauthorized access or changes to hardware or software. Microsoft cited a large increase in firmware-based attacks on computers in the last few years as the reason for this requirement, and TPM should help mitigate some of that, however that does potentially leave a lot of people in a tricky spot. Scalpers are already hiking the price of TPM modules and supplies are already lower since the announcement.
But here's the good news: you may not need a dedicated TPM module. If your system falls within the requirements for Windows 11 then your motherboard more than likely supports either Intel's Platform Trust Technology (PTT) or AMD's fTPM (firmware TPM), neither of which require a TPM module.
So what is the TPM module for then if it's not required? The difference is that the encryption keys are stored in the TPM module itself, if it's installed, rather than the firmware of the board itself. Our advice is to not rush out and buy a TPM module, because you probably don't need it and you will be paying more than you should for it, at least right now.
How do I find if my PC is TPM compatible?
First check if either Intel PTT or AMD fTPM is already enabled by opening a Windows PowerShell as admin and typing the command:
get-tpm
Below are 2 screenshots showing what it will look like if TPM is either enabled or disabled.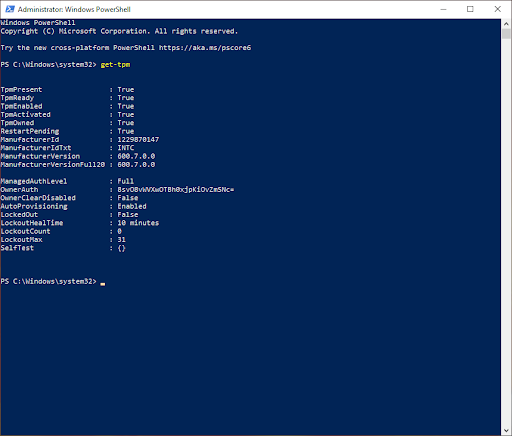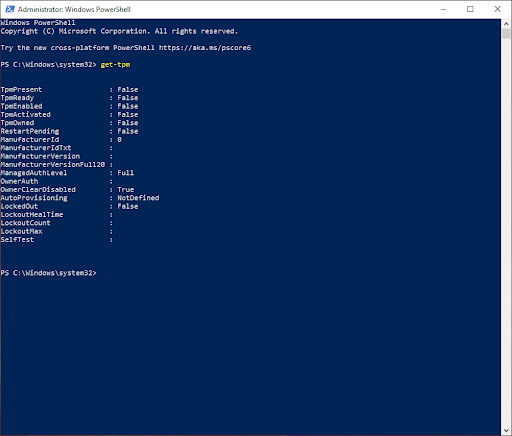 If the results say that TPM is enabled, then you're ready to install Windows 11. However, if TPM is not enabled, you will need to go to the BIOS on your system and enable either PTT or fTPM by following these steps.
Access the BIOS. This can be done by hitting the BIOS key during boot (usually F2) or using the Windows Advanced Start Menu
Go to the Advanced section (this is the same on both Intel and AMD motherboards).

For Intel, go down to PCH-FW Configuration and press enter. The option to enable PTT will be there. You will get a message box explaining the changes that are being made, just press okay and then press F10 to save and exit.
On AMD, AMD fTPM should be at the top of the list under Advanced. Change it from dTPM to fTPM and press F10 to save and exit.

Afterwards, you can run that command in PowerShell again to confirm that it worked.
There's also no reason to worry about UEFI or Secure Boot, as any system that is capable of running Windows 11 will already be UEFI, and Secure Boot does not need to be enabled, the board just has to be Secure Boot capable.
Hopefully this has cleared up some of Microsoft's mixed messaging on the requirements for Windows 11. If your system was built within the last 3 years, then you are more than likely ready for Windows 11.
Windows 10 devices
If you are running Windows 10 today, you can check to see if your device is eligible (i.e., meets the minimum system requirements for Windows 11) to upgrade using the PC Health Check app.  You can then check to see if the Windows 11 upgrade is ready for your specific device by opening Windows Update settings (Settings > Update & Security > Windows Update) and selecting Check for updates. If your device is eligible and the upgrade is ready, the option to download and install will appear: If you are ready to install Windows 11, simply select Download and install. For more information on the Windows 11 upgrade experience, watch this video:
Skip the line: Steps to download and install Windows 11 manually
The official rollout of Windows 11 may take a little time to finish. If you don't want to wait, you can start the manual installation process without depending on Microsoft to send you a notification. You should note that considering this is a new OS,  it's not the recommended route to take.
But, if you are a Windows enthusiast and can't wait to install Windows 11, you can manually install and upgrade your machine to the brand new Windows 11. Just to reiterate, we would still recommend to wait at least few weeks (if not months) before installing the latest version on their daily drivers.
To manually install Windows 11 browse to the Update Assistant tool (through a Windows machine).
With the Update Assistant, all you need to do is click on the Download Now button, accept terms, and then click on a few "Next" prompts to upgrade to install Windows 11.