Can home office equipment help sustain a successful working from home experience?
Work and personal life require a division to foster well-being through balance and equilibrium. However, these moments are eliminated or rushed for remote working employees, potentially resulting in poor mental preparation and readiness to switch between our "work" identity and our "home" identity.
The few informal micro-moments vital in everyday life such as walking down a corridor, watercooler moments, or spontaneous moments of respite waiting for a lift, sitting at a red light, or waiting for public transport are being replaced with a home office. Thus, our homes have become workspaces, meeting rooms, classrooms, gyms, as well as places of rest.
However, life at home is not always considered a refuge: life at home can be chaotic! A stressful space filled with responsibilities, tasks, monetary strains, and home duties which often need to be conducted around work-time.
We are assuming that remote working is here to stay. Tech giants are already admitting that forcing staff to work from a central location is costing them significant talent and organisational success. Hopefully the tips below will help create a space of respite for those of us working from home to experience freedom from home and work stresses, however brief or transitional.
The list:
There are countless websites pointing people to affiliated Amazon links trying to sell items such as expensive desks, chairs, beats headphones, etc.
While I'm not discounting these, and certainly an ergonomic chair and proper desk appears on this list, there are other empirically researched items that you should consider.
1 – A desk lamp
You do not need the most expensive lamp in the world. Sure, we'd all love to be able to afford the $700 Dyson CSYS Desk Light which changes colour temperature based on surroundings. To be honest, as long as the light doesn't flicker, you'll be fine!
Personally, I opted for a $60 (in Australia) Xiaomi Mi LED Desk Lamp.
Why is this important?
The desk lamp will serve two purposes.
First, it will light up your workspace. For many who do not have the benefit of natural light adorning their work area, a dedicated light source will be indispensable. Online meetings aside, the the physiological benefits are many.
However, most importantly, a desk lamp can help set boundaries between work and home.
You get to work, you turn your 'work' light on.
You finish work, you turn your 'work' light off.
Hence, there is a structured ritual creating a liminal space between home and work. When the light is on, you and your family/room mates/co-inhabitants will know that you're working. When it's off, you have officially clocked off and can move on from your work identity onto your private one.
2 – Personalisation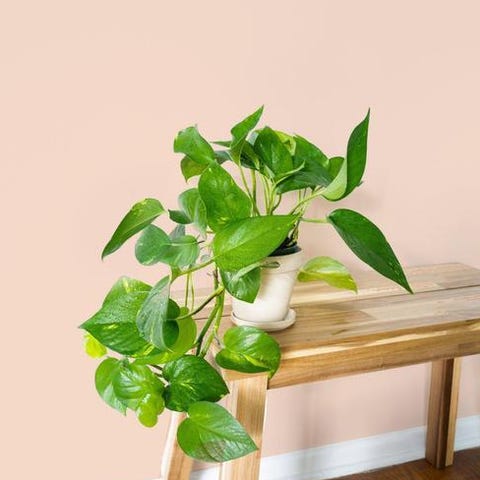 This is your chance to make your space yours. Perhaps your central office was a cubicle, or perhaps you were part of a hot desk/activity based work environment.
Whatever it may be, your home workspace can be fitted to reflect your personality.
Why is this important?
Indoor plants are a great addition to any space. Research shows that access to nature (and this can be through a window or a potted plant!) increases our well-being.
The "indestructable" plant colloquially known as ZZ plant is one of the few plants that will tolerate low lights, drought and low humidity.
Here is a site dedicated at showcasing 30 easy to care for plants that you can use to adorn your work environment.
BONUS:
The Stendig Calendar is a statement piece in whatever space it adorns, and their calendars are available widely. A 3 x 4 foot oversized masterpiece, it was designed in 1966 by Massimo Vignelli and is loved by designers and creatives worldwide.
As a bonus tip, you can upcycle your calendar sheets!
Once the month is over, sheets can be detached from the calendar through a perforated join. Previous months' sheets make excellent wrapping paper — we recommend rolling them up and saving them for Christmas.
3 – Wireless things!
Yes, it was bound to happen. A section dedicated to tech.
Importantly:
Do we need Apple's $700 air pod max? No!
Would it be nice to have? Hell yes.
For me, any affordable noise cancelling wireless headset is more than enough.
Why is this important?
For one, it will cancel any ambiant noises in the event that you live in a noisy house. It will let you concentrate during meetings and moments of deep concentration.
At the same time, it will allow you to take walking meetings during the day. For me, anything that can support me walking around is a good thing! While working from home, as everything is so close and readily available, I need encouragement to remain active. A wireless headset paired to my phone will do just that!
A laptop, wireless keyboard and mouse
The flexibility afforded by this combo will expand your workspace almost infinately.
Do you have a power outage at home?
Do you have your cleaner coming by?
Do you have people running around and you need to take an important meeting?
Do you feel like you need to get out of your house, and experience a change of scene else you will go insane?
Grab your laptop, your noise cancelling headset, and head to a cafe or a park for some natural sunlight!
4 – A coffee machine
Why? Well, for me, working from home removes the ritual of walking by my favourite coffee place on my way to work.
The aromas, the noises of coffee beans grinding, and the ritual of smelling my coffee and taking a 'break' between my home identity and my work identity is necessary before I can start my day.
This can, naturally, be replaced with anything. For me, it's the ritual of smelling my coffee beans first thing in the morning, of weighing the coffee, grinding it, that helps me rationalise that my work day is beginning. It's a wonderful moment.
You might prefer tea, juice, water. Whatever it may be, don't let the moment go by without pausing to appreciate it!
If you fancy coffee, you don't need an expensive machine! In fact, I'd recommend against it. A few years ago I bought a $3000 espresso machine which never gets used anymore.
Instead, opt for a V60 or Chemex kit – for less than $100 you'll end up making the most incredible filtered coffee!
5 – Ergonomic setup
Yes – this will be the most important item to ensure a successful home-office setup.
However, I put this on number 5 because your organisation should be providing you with this.
If you need to purchase a setup on your own, I would recommend the following (and please note, I am not endorsed by these companies. I only recommend them because I've bought them, with my own money, and use them personally).
IKEA's Skarsta/Trotten stand-up desk is my personal favourite.
I like that it was budget-friendly and was straightforward to set up. I also like that it's manual instead of electric, and doesn't require to be plugged in, for that reason.
I like not having to deal with the power cord and that it's one fewer thing to break or figure out where to plug it in. I've had good luck with IKEA furniture in the rest of our apartment, and I can almost always trust that the quality will be good enough for a few years. For this desk, that statement was true and turned out to be a great investment.
I have the bigger option of the two IKEA standing desks that are currently available and it's been great to work on. It's incredibly sturdy. There's almost no shake when I'm typing in the sitting or standing position.
The larger IKEA standing desk size is also a good size for keeping various items on your desk, like you would at your regular office. I have a few plants, my laptop on a Roost laptop stand, a keyboard, a wireless mouse, my hard drives and a second monitor.
For me, the search for a laptop stand starts and ends with the Soundance Laptop Stand.
It's super affordable, it looks amazing, and it's really tidy. . It features a simple and elegant design that is compatible with most laptops. And if overheating is your biggest concern, then the ventilation on this one will take care of it all.
Aside from allowing better air circulation that provides a continuous flow of cool air to keep the risks of overheating to a bare minimum, you can use the space under the stand to keep a keyboard or mouse!
More importantly, the stand provides a 6-inch elevation that keeps the device on an eye-level throughout. Although the height is not adjustable, I don't need to hunch over the screen or get into an awkward position. Given it's modest price, there's nothing more you could asked for.
For this, I will not make a recommendation for a specific device. Instead, I will say get one if your space allows! And – I would similarly argue to get the biggest screen your space and budget allows for!
I have an old HP 22″ screen which caters for my needs perfectly. I use it in addition to my laptop screen. At the same time, I have an Ipad connected as another screen which is constantly on, displaying my Teams window to ensure that my laptop and external screens are used for productivity tasks.
---
So, there you have it. My list of Home office essentials for a successful working-from-home experience.
Did I miss anything? Can you recommend an item? Feel free to share in the comments below!